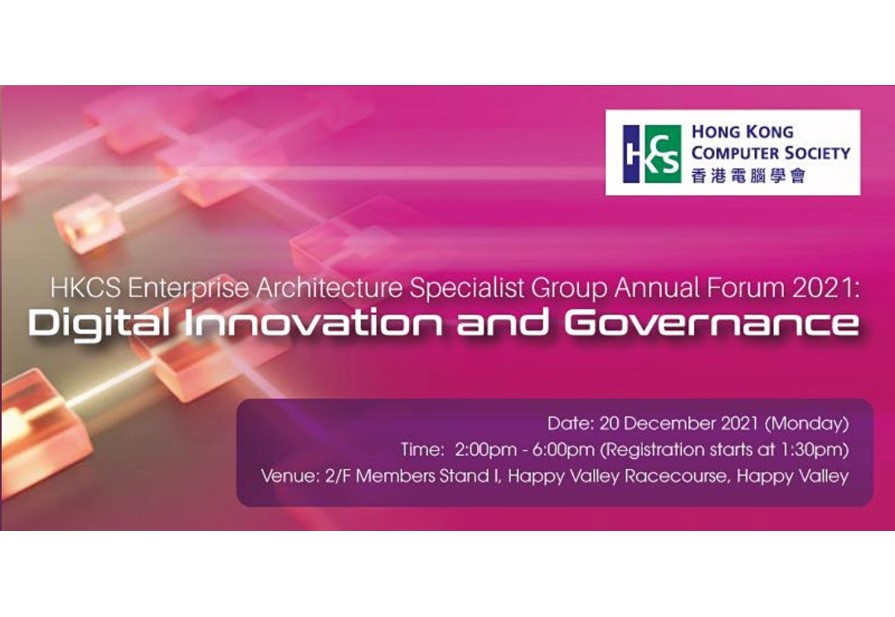 HKCS Enterprise Architecture Specialist Group Annual Forum 2021: Digital Innovation and Governance
We are in the middle of the Digital Innovation journey. While we transform ourselves with different innovative technologies, we also face challenges on how we should manage and govern these technologies under the fast changing and high agility environment in an enterprise.
Being the largest EA forum in Hong Kong organised by Hong Kong Computer Society Enterprise architecture Specialist Group (HKCS EASG), they are delighted to take the topic of "Digital Innovation and Governance" as the theme of the 2021 Annual Forum event, and deep dive with us together with our seasoned speakers.
In the event, HKCS will share the latest trend of the innovative and emerging technology on the market covering Cloud, AI and Data Analytics, Microservices and Container architecture, IoT, 5G, business automation technology, etc) adopted by different industries. HKCS will also share with us the way we manage and govern these technologies with the best practice on the market, the challenges we faced and lessons learnt, and the operating models we adopted with cases sharing from our speakers. Moving forward to the future under the environment of post-COVID-19 would also be another hot topic to be covered in the event.